In the Heart of Tuscany
Farfalla di Toscana is a 10 minute drive from Pescia along a winding hillside road which connects to the property along a gravel driveway approximately 300 meters long. The surrounding hills are a mix of forest and olive groves, teeming with wildlife. Pescia has several supermarkets and many smaller shops, as well as the weekly farmers' market every Saturday morning.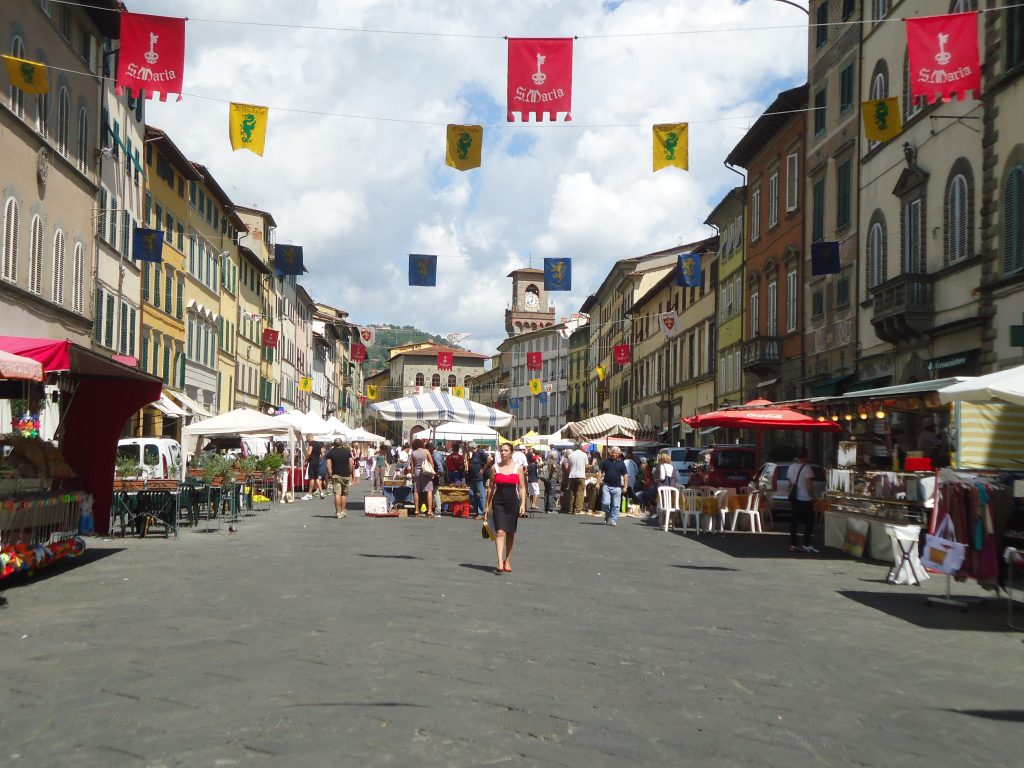 Pescia (a 10 minute drive) is well worth a visit.  Park on Piazza Mazzini and explore the town on foot:  be sure to visit the cathedral (dating from the 13th century) and the church of San Francesco (which has a famous portrait of Saint Francis of Assisi).  On Saturday mornings Piazza Mazzini has a farmers' market.
Montecatini Terme (a 30 minute drive) was famous for its thermal baths even during the Roman Empire.  It has many cafes and restaurants and an old world fin di siecle atmosphere.  Be sure to take the funicular up to Montecatini Alto and enjoy a spectacular view over the Valdinievole below.
Collodi (a 25 minute drive) is the childhood home of the Italian author (Carlo Lorenzini) who invented Pinocchio.  Kids will love visiting its Pinocchio Park, a major tourist attraction.  The adjacent Villa Garzoni has wonderful gardens and a butterfly house that offers fun for all ages.  There are cafes and restaurants nearby, and plenty of parking.
The Valleriana (also called the Svizzera Pesciatina) is the hilly region north of Pescia consisting of 10 old and picturesque villages, 3 of which (Medicina, Fibbiala, San Quirico) are visible from our property.  The area is popular with bikers and hikers.  It is unspoiled and not touristy; at lunchtime one can find local cafes in the "larger" villages (Vellano, Castelvecchio, San Quirico).
Montecarlo (a 25 minute drive) is a hilltop village surrounded by vineyards.  Its bell tower is visible from our property. Leave your car in the free parking lot just outside town and walk uphill to explore.  There are many cafes and restaurants and a fine view.  The shops will be selling the excellent local wine and olive oil, and in August the annual wine festival is not to be missed.
Lucca (a 40 minute drive) is a marvel.  Park outside the city walls and walk in through one of the gates.  The walls are covered by a pedestrian park and can be walked in an hour.  Be sure to visit the cathedral of San Martino.  There is an antique market the third Saturday of each month.  Puccini's home town has an evening concert held daily at the church of San Giovanni; book your tickets in advance here. 
Pisa can be reached by car or by train (about 1 hour either way).  The rules for visiting the famous tower are quite strict, so be sure to  book your ticket in advance and be aware that you must leave any bags in a cloakroom beforehand.
Florence can be reached by car or by train (about 1 hour either way), but note that driving in Florence is not easy.  Pescia's train station is a 15 minute drive from our property, has a free parking lot, and has many daily trains to Florence.  
Siena  (a 2 hour drive) can also be reached by train (3 hours with a stop in Florence), but there are many convenient parking lots all around the city from which the center is a short walk.  The Piazza del Campo (site of the Palio) and the  cathedral are amazing.
Volterra (a 2 hour drive) is an ancient hilltop town which pre-dates the Roman Empire and is a site of medieval, Roman, and Etruscan history.  Park outside the city walls and enjoy the amazing views as you walk into town.  Be sure to visit the Etruscan museum.
Carrara (a 90 minute drive), in the Apuan Alps, is famous worldwide for the marble quarries which surround the city.  A guided tour of the quarries in a 4×4 vehicle is an unforgettable experience; there are many tour companies available, and we recommend to pay for a professional guided tour rather than trying to do this yourself.
Viareggio  (a 1 hour drive, and also reachable by train) is a lively beach resort town with plenty of restaurants and nightlife along its seaside promenade.  There are many serviced beaches which (for a fee) provide chairs, umbrellas, changing areas, WC, and food.  The annual carnival (late February) is world famous.
PLACES TO EAT:  Vacationers often ask us to recommend an informal place to eat (especially with big groups).  We recommend Il Poggio, which is in nearby Montecarlo and serves wonderful Tuscan food and has indoor and outdoor seating.  We also recommend La Fiamma in nearby Borgo a Buggiano, which has great pizza (and indoor and outdoor seating).  There are also several cafes on Piazza Mazzini.
PLACES TO SHOP:  For food and essentials, we recommend the Esselunga supermarket in Pescia, which is open daily (even Sunday and most holidays) and has an excellent selection and good prices (and a huge parking lot).  Piazza Mazzini has many small shops selling both clothes and food and various essentials.  The nearest shopping center is in Montecatini Terme (about 30 minutes drive).